God has been so faithful to Nickie and I as we have taken steps of faith to move into the new things He has for us in Global Equippers! I (Sandi) finished up my responsibilities with Dunham and Company towards the end of May and am now serving full-time in our own ministry. This is such an answer to prayer and has been the cry of my heart for many years! We are encouraged that God is opening new doors of opportunity for us and that He is affirming the steps we are taking.
Ignite Events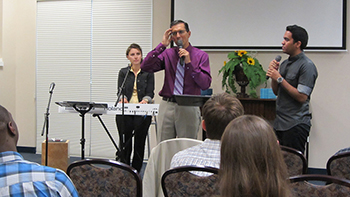 At our recent Ignite Event, Pastor Robert Acosta, working through an interpreter, Jose Aguirre, shared a challenging exhortation to obey God to "lengthen the cords and strengthen the stakes" so that we can receive the new and bigger things God has for us. He encouraged us that God wants to bless us with greater Kingdom expansion but we must prepare to receive all that He has for us by increasing our capacity. We can do that by prayer, reading God's Word, and taking intentional steps of faith.
"Enlarge the place of your tent. And let them stretch out the curtains of your dwellings; do not spare; lengthen your cords, and strengthen your stakes. For you shall expand to the right and to the left, and your descendants will inherit the nations and make the desolate cities inhabited." (Isaiah 54:2 NKJV)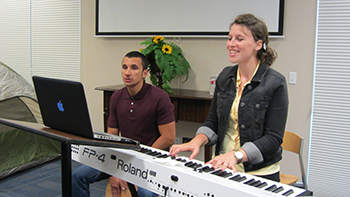 We are grateful for Juan & Iulia Zarate, who served faithfully and gave so freely in leading worship to the Lord. The Ignite events would not have been as effective without their wholehearted and anointed participation!
We will miss them very much! Juan and Iulia have now transitioned from Dallas to Bogota, Colombia, where they will be serving in full-time ministry in a local church together with Juan's father.
Partnership with AIMS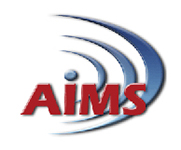 We are happy to announce our partnership with AIMS (Accelerating International Missions Strategies). Dr. Howard Foltz invited us to partner with his organization utilizing their materials to train and equip leaders for world harvest. Our relationship with Dr. Foltz began while I was a student at Regent University. God used his classes to totally up-end my understanding of missions, which radically changed the course of our work and ministry. We will be attending the AIMS fellowship and training event in Colorado Springs in July to meet their team and become better acquainted with their training materials.
Teaching a New Missions Class

Another wonderful door of opportunity God has opened up is for me to be able to teach a new missions class at Christ For The Nations Institute. I will offer the class, God's Global Purpose, two hours per week for second year students during the upcoming Fall semester. I am very grateful for the opportunity to impact young emerging leaders as they consider their career or ministry path. My desire is to impart a commitment to pursue God's global purpose no matter the direction they choose. I want them to gain insight into God's glorious pursuit of the peoples of the world and to burn with passion to fulfill their unique role in that global plan with total abandonment.
Ministry in Argentina & Brazil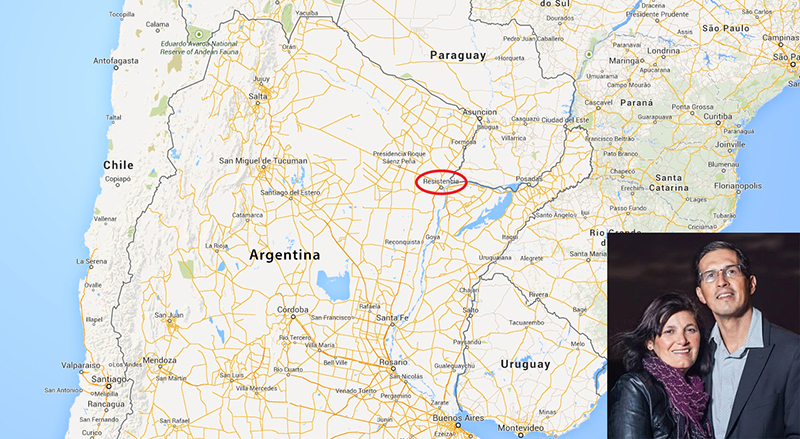 God has opened a door of ministry with Pastor Robert & Susana Acosta in Argentina in September. Nickie and I will provide leadership training and equipping for members of their newly established congregation in Resistencia as well as offer teaching and ministry related to breaking free from the wounds of the past. We will also offer a missions conference for a group of churches.
We believe that this ministry trip is significant for God's purposes in bringing healing to leaders as well as imparting a passion for missions. We are convinced that God is going to commission many new laborers into the ripe harvest fields.
We hope to equip each congregation to become actively engaged in praying for unreached people groups and seeking God for their unique and personal involvement in reaching them.
"Yes, LORD, walking in the way of Your laws, we wait for You; Your Name and renown are the desire of our hearts." Isaiah 26:8 NIV
Would you Partner with us in Prayer?
Please partner with us in prayer that:
God will bless the work of our hands so we may be fruitful in all that He has asked us to do.
Sandi will have wisdom as she puts together the course that she will teach at CFNI in the Fall.
We will have the heart of God as we prepare for our ministry in Argentina.
God will prepare the hearts of those we will minister to here at CFNI and in Argentina.
God will anoint our teaching so that the Lord of the harvest will "send out laborers into His harvest." (Matt. 9:38)
Thank you!
Would you Partner with us Financially?
Please pray about supporting the work God is doing through Global Equippers. We are asking for your financial partnership tor:
Our travel and hotel costs to attend the AIMS training event in Colorado Springs ($700.00).
Our airfares for the Argentina ministry trip ($2,900).
Support of our Missionaries (Any Amount).
Click here if you would like to give now. You may use PayPal or any major credit card:
 Or, you may send a check to:
Global Equippers
3336 Marvin D Love Fwy #234, Dallas, Texas 75224